What are SpecialChem marketing emails?
To access all the technical data of the specialty chemicals and materials listed in our databases, visitors need to register as members. This membership is 100% free.
Already professionals have registered as profiled members and most of them have opted-in to receive our email updates about the latest innovations and products.
As a supplier, our marketing emails are great opportunities for you to promote a new product launch, an event or share educational content with your target market, right in their mailboxes.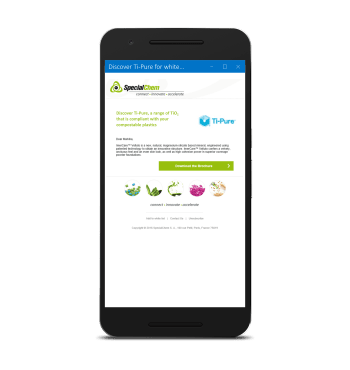 Our marketing email options
Promote a downloadable content or video hosted on SpecialChem, receive all the leads who clicked and re-engage them with a second document or video.
Email promotion: picture, text and call-to-action
Email retargeting: picture, text and call-to-action
Download pages: to download your PDFs or watch your videos
Emails and pages writing by your Customer Success Manager
Report with delivers, opens, clicks, open and click rates
Lead list from your video views or document downloads
Lead scoring based on each lead's navigation and interest
~22% Open rate / ~11% Click rate on first email
~58% Open rate / ~51% Click rate on retargeting email
Are SpecialChem marketing emails a good fit for me?

Engage chemical buyers with an interest in products like yours
Our marketing emails are ideal to reach formulators, engineers and specifiers based on their profile and interests on SpecialChem websites. We analyze their online navigation to score their level of interest in your product categories, markets, applications and more.

Reach an audience of technical decision makers
of our members hold technical R&D and production positions across the globe. This is one of the most qualified audiences that you can find when it comes to the selection of specialty chemicals and materials.

Target the regions or countries you want
Our audience is global, and almost equally shared between the Americas, EMEA and Asia/Pacific. One of the big advantages of marketing emails is that you can target specific regions or even countries to only focus on potential customers who fit your business priorities.

Be considered at the early stages of the buying decision
Are you launching a new product, attending a trade show, organizing a webinar or ready to feed your marketing and sales pipes with prospective leads? Marketing emails are excellent to promote solutions or events to initiate new projects or advance existing.
Frequently Asked Questions