Is inbound marketing for me?
Inbound Marketing is all about attracting, influencing and capturing your future customers when they are searching for a material solution. We measured that inbound leads convert 6X more into business opportunities than outbound leads.
No matter what your business, inbound marketing is critical for your business growth. Let's explain why.
Where do you go when you need to buy or find something? Most probably online, and material selection is no exception. Trade shows, promotions and prospective calls are no longer as effective as they were in the past.
More and more technical buyers of specialty chemicals and materials want to self-educate online to explore solutions, screen products and short-list suppliers before contacting you. If your products or company are not visible on the channels that your buyers use at these stages, you have little chance to be considered by your future customers.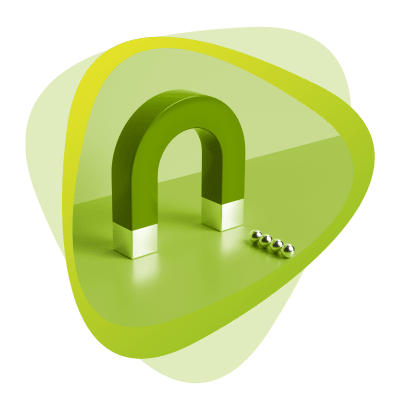 Is SpecialChem a good channel for my inbound strategy?
When it comes to material selection, technical buyers don't go to Instagram or Facebook to find new products or suppliers. They mainly use search engines and product databases like SpecialChem to explore new ingredients and suppliers. If you want to reach and influence your future customers, SpecialChem is one of the leading inbound channels that you can find in the plastic, cosmetic, coating and adhesive spaces. Here is why:

Reach a massive audience in your target market to make sure your company and your products stand above your competitors.

Technical R&D and production positions
Influence engineers, formulators and specifiers of specialty chemicals and materials — your technical buyers.

Traffic from search engines
Gain an immediate reach to inbound leads and turn unknown visitors into real business opportunities.

Visits related to active projects
Connect and engage with inbound leads when they are considering your products and have a purchase intent.

Inbound marketing tools to influence and capture leads
Benefit from features and content specifically designed to encourage your leads to self-educate on your products and interact with your content and company.

Lead scoring for optimal follow-up
Identify the hottest leads for quick follow-up by your sales team and nurture the others with your own marketing actions thanks to our Artificial Intelligence scoring.

Customer success manager for expert support
Does digital marketing stress you out? No worries! Your dedicated CSM will give you all the necessary support, best practices, advice and tips to make your inbound program a success.
How can SpecialChem help me with inbound marketing?
Leverage a range of inbound tools to attract, influence and capture your technical buyers when they self-educate on your products and company on SpecialChem websites and material databases:

Technology
Centers
Assert your leadership and offer a unique and exclusive educational area dedicated to your technology.
SOON
Is SpecialChem a good fit for me?
Do you want immediate and significant reach to prospective technical buyers in project mode?
Do you want to optimize your lead follow-up and save your sales resources for only the best opportunities?
Do you want to limit your IT investments and hiring?
Do you value an inbound marketing program customized to your resources, digital maturity, ambitions and budget?
If you answer yes to any or all these questions, we are a good fit for you.
Frequently Asked Questions