What is a SpecialChem newsletter promotion?
Every month, you have the opportunity for your promotion to be seen by an average of global subscribers to each of our 15 different newsletters.
Technical decision makers — the formulators, engineers and specifiers — count on our newsletters to provide industry news and educational content to help them to better select the right material or ingredient for their projects.
Promotions in our newsletters help suppliers like you to share educational content to influence your future customers and generate leads to feed your sales and marketing funnel.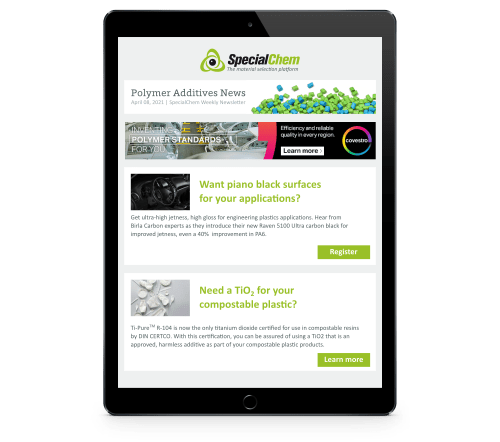 Our newsletter promotion options
Promote downloadable content or a video hosted on SpecialChem and receive all the leads who download your document or watch your video.
Newsletter promotion: picture, text and call-to-action
Download page: to download your PDF or watch your video
Writing of the newsletter promotion and page by our Customer Success Manager
Report with delivers, opens, clicks, open and click rates
Lead list from your video views or document downloads
Lead scoring based on each lead's profile, navigation and interest
~45,000 Recipients on average
~170 Clicks on average, up to 350 Clicks
~75 Leads on average, up to 250 Leads
Are SpecialChem newsletters the best spot for me?

Gain a massive visibility for your promoted content
Our newsletter audiences are among the largest in the plastic, coating, adhesive and cosmetic spaces, with global subscribers to each issue. If audience size matters to you, then this is the right spot for you.

Reach a large audience of chemical buyers
of our members hold technical R&D and production positions across the globe. This is one of the most qualified audience that you can find in the selection of specialty chemicals and materials. If formulators, specifiers and engineers are your primary target, our newsletters should be on top of your list.

Be considered at the early stages of the buying decision
43% of engineers have turned to newsletters to find information after COVID-19 trade show cancellations according to a 2021 GlobalSpec survey. In other words, newsletters play a critical role in your buyers' journey, especially when they explore new materials and ingredients for their projects.

Benefit from one of the most competitive cost/perfance ratios
Our newsletter are among the highest performing and least expensive, especially compared to pure online media.
Frequently Asked Questions