Are you wondering if a website banner is a good campaign to support your lead generation actions? Are banners even effective to generate leads?
Well, the answer is not clear-cut.
In general, banners don't generate leads by default, but it definitely helps to drive more.
Let me explain why.
A banner is most effective for branding
Several types of website banners exist. In this article, I will only refer to the leaderboard and top rectangle positions as shown in the screenshot below. The reason is simple, most of our clients who are asking this question specifically refer to these positions.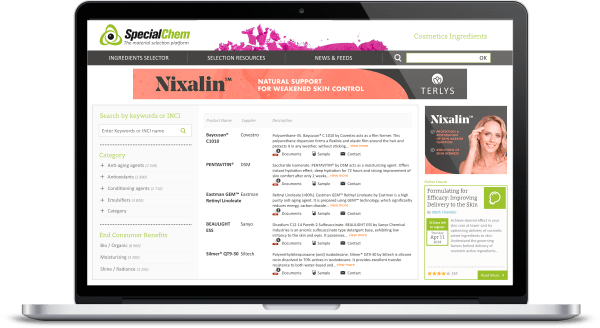 Example of a targeted banner campaign simultaneously displayed on the leaderboard and top rectangle positions on SpecialChem
The role of a banner is to convey a meaningful message to a wide, specific, or targeted audience. The banner message can aim to strengthen your brand awareness, to assert leadership, to announce the release of a new product or even to increase your popularity in your target market.
Their design and animations must stand out from the hosting website. Banner colors usually match your corporate colors to reinforce your brand awareness.
But despite their attractive layouts, banners are rarely clicked. Most of visitors give a quick glance. This is the reason why banners are always short to read and straight to the point, with prominent visuals to catch the limited attention of visitors.
Let's look at some interesting data by assessing our recent Click Through Rate (CTR) benchmarks:
In 2020, banners on SpecialChem had

an average 0.11% CTR for 50,000 up to 100,000 views

per month for each banner.
On Google Ads Display, leaderboards typically reach a smaller 0.04% the same year. Source: Smart Insights.
If those figures don't mean anything to you, this is quite low. Comparatively, our newsletter advertorial, which is one of the best campaigns for lead generation, has a 12% CTR in average. That's over 100 times greater! This clearly highlights the fact that a banner is not meant to generate clicks, and by extension, not ideal to drive traffic or generate leads.
The engagement is too little to justify a follow-up
How would you feel if you received a marketing email or a call from a salesperson after viewing a banner online? Certainly irritated. Even if you accepted cookies on this website, you didn't sign up for such tracking.
As a visitor, you don't decide to view a banner or not. It is displayed automatically and unless you use an ad-blocker, there is nothing you can do to hide it. And because this action is not intended, it is not worthy to justify a follow-up action.
If such follow-up happens, that will definitely feel like spam to the visitor.
Not all the banner viewers are trackable
Generating leads from a banner also has its technical and legal limitations.
On the technical side, if you browse a website anonymously, it is impossible to connect the banner view with a real person. For example, if you go on SpecialChem after cleaning your cookies, if you don't log in as member, we won't be able to match the banner views with your profile.
On the legal side, General Data Protection Regulation (GDPR) varies from a website to another. At SpecialChem, we genuinely believe that a banner view is not engaging enough to generate a lead for our customers, and there are much better channels to do this. We only use intended and engaging actions to trigger a lead generation such as a page view or a document download.
Banners can be used to drive traffic
In some cases, banners can be used to redirect traffic with visible call-to-actions. It can be used to promote your new website or a specific event, a webinar or a conference for example. Click-throughs would be redirected to a landing page where you will convert them into leads after submitting a form for example.
But again, even if you optimize the banner design to maximize the click-through-rate, it will still remain low. Do not expect hundreds of leads out of such actions.
Banners can boost your lead generation
Despite all the previous reasons, banners do have an impact on your lead generation, but maybe not where you would expect.
We compared 68 lead generation programs on SpecialChem. Those programs mostly consist of top-listing chemical products on the search results in our material database. And during a month, we displayed a leaderboard and a top rectangle banners on search result pages matching our client's technology.
After analyzing the performance, we saw that:
Popular suppliers generate 3x more leads
Our client's popularity increased for 3 months directly after the banner campaign, with a peak at 300%
In other words, running a banner campaign will significantly increase your popularity and boost your lead generation from your products. You can see the full detail of our analysis here.
Banners are too often underestimated because most of us expect the wrong outcome. They are not meant to be clicked and generate leads. They are extremely powerful to increase your brand awareness and assert your leadership in your target market, plus they boost your lead generation.
At SpecialChem, we have developed targeted banners that are displayed when a user searches on specific keywords. These targeted banners appear on the search results page in our ingredient database, only when the search criteria match your specialty chemical or material. This targeted banner is ideal to increase your leadership in your target market. Feel free to contact us if you want to get benchmarks.