SpecialChem has a unique business model that can't be explained with just a single word, but if we had to, we would say "influence". And one of the key methods that we use to influence technical buyers is with our product database.
We provide free product databases to help engineers, formulators and specifiers around the world to discover their next material or specialty chemical.
Naturally, one of the most frequent questions that we hear from our prospective clients is "Why are my products listed on your websites?"
So, let me explain how your products ended-up on SpecialChem.
Our mission: To be the most exhaustive database of specialty chemicals and materials
SpecialChem was born in a lab in the year 2000. Our founder, Christophe Cabarry, was struggling to find technical data about some chemicals – just like any other engineer, formulator or specifier. The Internet was in its infancy at this time, and there was no place where you could easily go to access this information. An idea took shape in his mind: create a website that will list all the products in the world, with standardized data to search, find and compare products more easily. From this idea, SpecialChem was born.
Since that day, our mission is to provide the most exhaustive list of specialty chemicals and materials to formulators and specifiers. From the beginning, we never wanted to limit their choice to only the suppliers who choose or pay to list their products with us.
This is the reason why your products are listed on SpecialChem. We include every supplier.
Our databases are now the largest in the world with more than 350,000 products from the coatings, adhesives, cosmetics, polymer additives, and plastics industry.
How do you add or update products?
To make this vision a reality, we have a team fully dedicated to search for new suppliers, and continually add and update products in our databases.
To create our product pages:
We collect and transform public information available on suppliers' websites
We contact some suppliers to request their technical datasheets
We add the products of the suppliers that contact us
We update our clients' products when they start a digital program with us
We update large multinational suppliers every year and also do it on-demand for others
How can I benefit from your product listing?
SpecialChem is a leading platform when it comes to material selection. In 2020, our platforms attracted 9 Million visitors and 70% of our 500,000 members hold a R&D or production position — your technical buyers.
Having your products listed on SpecialChem is the first step for your future customers to consider your technology as they use our databases to explore and screen new solutions and suppliers. This "Basic Listing" is free of charge. So, if your products are not on SpecialChem, I strongly recommend you contact us to list your products.
Now if you want to get the most out of our product listing and feed your sales funnel with marketing leads, you can subscribe to a "Premium Listing" and lead generation options which will help you to:
Boost your products' visibility
Your products will be top listed in search results and tied to specific keywords to drive more traffic to your product pages.


Educate your future buyers
You will encourage professionals to self-educate on your technologies via case studies, tech papers, white papers, brochures, videos…


Generate marketing qualified leads
You will see which professionals show a strong interest in your products.


Identify the most active leads with our A.I. lead scoring
Our proprietary Artificial Intelligence analyses the online activity and profile of every lead to identify those who have the highest probability for a project.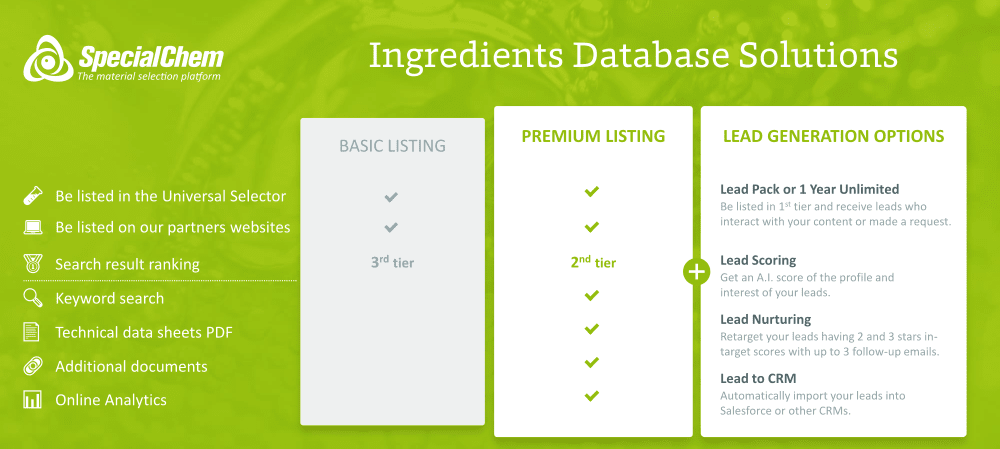 Example of the Basic and Premium Listings available on SpecialChem


Contact us for a quote if you want to benefit from the Premium Listing.
Tip: Do you know that a banner campaign will boost your popularity and increase your lead generation? We compared 68 lead generation programs on SpecialChem, you can see the results here.
Is SpecialChem infringing any copyright laws?
As we are referencing your products, sometimes without permission, you may ask yourself if this business is violating our copyright. No, it isn't! Our business is legal.
We operate in complete accordance with the principle of "Fair Use". Our transformative work constitutes a fair use of any copyrighted material as provided for in Section 107 of the US copyright law.
To operate under "Fair Use", we follow 4 factors:
We do an important transformative work to create product pages, write summaries and categorize products. We do not reproduce copyrighted documents like technical or safety datasheet, brochures etc.
It is not for profit as we do not sell these assets or the use of our databases.
The only copyrighted material that we use is the product name — brand and grade names — with the mention of the supplier's name and the trademarks ™ or Copyright © labels.
There is no negative effect on the copyright holder, but on the contrary, it makes their products easier to find and more visible on search engines.