Marketing emails are powerful outbound tools to promote your educational content to a targeted audience. Although writing an email is within everyone's reach, you can easily and quickly fall into bad practices leading to unattractive subject lines, endless copy with unclear messages and weak call-to-actions.
At SpecialChem, we regularly send marketing emails to promote the content of chemical suppliers, to targeted engineers and formulators. Over the years, we have gathered best practices that will help you to ensure an optimal open and click through rate. Follow the guide.
How to write your subject line
The subject line is the first element that your recipients will read. This is what will influence them to open your email or not. Let's see how you can make it compelling to encourage people to open it.
#1 - Feature the value and benefits
By showing the value of the content you are sharing right in the subject line, you increase your chances to raise the email recipient's interest. What will they learn that could help them to solve their problems or do their job better? This is the #1 tip: trigger their interest.
#2 - Use figures, use quantitative data
Whenever you can, quantify the benefit of your product. X% or X times better than benchmark, Y% cost savings, etc.
Use that figure in the subject line to increase the open rate. It helps the recipients to picture what results they can reach while tickling their curiosity.
#3 - Keep it short, use 55 characters
This is the usual length that will be visible in your recipient's email inbox. The rest will certainly be cut by Gmail or Outlook previews, resulting in an unfinished, vague, unclear or weak subject line.
For the same reason, always put your most important keywords at the beginning rather than the end. Put yourself in the shoes of your target customers.
#4 - Address recipients personally
Calling recipients by their first name in the subject line also boosts the open rate. By extension, this is also valid with pronouns like 'you' and possessive like 'your'.
If your email is perceived as personal, you have a higher chance to be considered credible and valuable by recipients and not perceived as unsolicited email.
#5 - Start with an action-verb or ask a question
Make your subject line dynamic, compelling and attractive. Action-verbs are ideal to tease readers with your content and set them in motion.
You can also rely on short questions involving a positive answer or even use 'how to' sentences.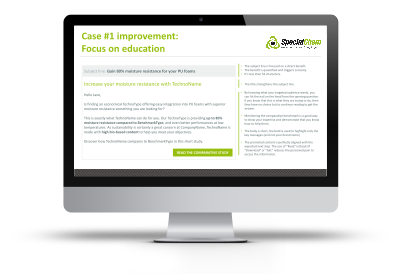 How to write your email copy
Once recipients open your email, your objective is to lead them to the call-to-action. Many people wrongly believe that once the email is opened, the job is done.
They throw everything they can in their email assuming recipients will carefully read it. But the truth is that openers don't have the time to meticulously read your email.
Most of them will only scan it. Let see how you can optimize your email and even take advantages of this scan to guide the readers to your objective.
#6 - Follow a simple logical structure
As readers are scanning your email, you need to quickly draw their attention and involve them. They need to feel that the content you are sharing is relevant to their needs and will help them.
How?
Start by defining the problem you can help them to solve, through a question for example. Introduce your solution and its benefits for them or their customers.
Conclude with a teaser of your content and close with the call-to-action. Each paragraph must logically and naturally lead to the next.
#7 - Keep paragraphs short with a single idea
When you receive a very long email, chances are high that you will close it without reading a single word. The same goes for the recipients of your email.
Do your best to write the shortest text needed to convince readers to progress and remove the unnecessary text.
Keeping one idea per paragraph will help you to focus on the most important part of your message.
#8 - Focus on benefits, not performance
Marketing emails are not meant to describe everything about your product or introduce your entire portfolio.
These emails are about sharing relevant and valuable information that can help your targeted audience do their job better. Always keep that approach in mind when writing your copy.
#9 - Use bolded text
Highlighting the most important message in each of your paragraph is a good way to direct the focus of the readers.
You can also bold several pieces of text that when read one after the other form another sentence. This is the best trick to counterpart scan-reading.
#10 - Use a title to clarify the goal
In some cases, the email template includes a title. Use it in combination with the subject line to strengthen your message and move your reader to click on the call-to-action.
#11 - Get personal, write in the second person
Like your subject line, being personal make your message stronger. Readers feel involved as you are directly talking to them.
You can use their first name, "you" and "your", and personalization fields such as company name, job positions or others.
However, try to find a good balance when sharing personal information, you certainly don't want to look creepy to them. This is the big brother syndrome.
#12 - Align your subject line and email copy
There is nothing more disappointing than expecting something and receiving something completely different.
Please.
Make sure that your email content is aligned with what you teased in the subject line.
How to write your call-to-action
The call-to-action is the button or hyperlinked text located at the end of your marketing email. This is the link that readers need to click to access the content you are promoting.
This is the last step to your email objective. And the most important objective as you will certainly agree. Let's see how you can optimize it to encourage readers to click instead of abandoning and deleting your email.
#13 - Clarify what is coming next
When reading the call to action, your prospects must get a clear idea of what will happen next.
Make sure they see the answers to these questions:
What type of content will I be redirected to?
What efforts will I have to take to access the content?
Am I going to have to fill in a long form?
If your call-to-action is vague or generic, readers may be reluctant to dive into the unknown.

#14 - Use only one call-to-action
Multiple call-to-actions or hyperlinked text won't generate more clicks. In fact, it is quite the opposite.
If your objective is to promote a specific document, linking additional resources will only lose the readers on what they are supposed to do.
Keep them focused on the document that you are promoting.
Don't distract them. If you face a difficult time choosing the one document to offer, you certainly need to revisit your objective and review your target segment.
#15 - Use an action-verb
A call to action must always include, wait for it…, an action!
Always start with a verb. It creates motion, it's dynamic.
One effective way to phrase your call-to-action is to use "I want to YOUR_CALL_TO_ACTION". I want to "See the comparative data", "Download the guidelines" or "Read the case study" are good examples on how to use it.
Bad and good examples of marketing emails
Even if the theory seems clear, it is sometimes a bit more difficult when practicing. Let's have a look look at 2 examples of marketing emails to get you started.
All the below examples have been anonymized and modified to better reflect the usual bad practices we face in our clients' emails.
Bad email version
Subject: Extra Long-Lasting Surface Protection from New Coating Technology
Discover performance benefits for wood or metal
Need extra long-lasting surface protection for your wood or metal finishes? This new technology delivers uniquely high levels of toughness, chemical and water resistance, and high temperature stability for coatings, enabling extra long-lasting surface protection.
This technology can be tailored for multiple surfaces or to achieve specific levels of hardness, durability, chemical resistance and gloss or to meet specific VOC requirements.
Click through to the grades shown below for the technical data sheet.
Grade A

for clear wood finishes

Grade B

for inherently matte finishes

Grade C

for metal topcoats

Grade D

for low VOC wood coating formulations
You can also download our company brochure now or visit us at the upcoming American Coating show.
DOWNLOAD BROCHURE
Why is this email bad?
The subject line is not engaging, generic and vague. The benefit is not quantifiable. Why should I open this email if I can't see what I am about to learn?


The title reinforces the message emptiness. The targeted professionals can't recognize themselves at this stage.


The email copy is a portfolio introduction. All the paragraphs are sharing specific details of the products but never answer to the targets' problems.


The body structure lacks progression. Each paragraph is independent from the others and they could work in almost every order.


The message is not targeted and not benefit-focused. From subject to call-to-action, there is nothing interesting to extract from this email for the targeted audience. Why the shared documents would be different? Chances are high that they are as empty as this email. People won't click on it.


None of the call-to-actions make sense. We can count 4 text hyperlinks, 1 button and a sentence inviting to visit them at a trade show. None of them is directly connected with the expected action: "discover the performance benefits" as entitled. Technical datasheets and brochures are not meant for that. As a result, you have no clue which document you should open to get that information, and downloading 5 documents is certainly not the path that openers will follow.
Good email version
Subject: How to get 70% longer durability for your wood coatings
Reach extra-long lasting surface protection for your wood coatings with TechnoName
Hello John,
Limited hardness, weak chemical resistance or high temperature degradation are the typical issues of wood coatings. Has any of your clients ever reported similar issues on your wood coatings?
TechnoName can help you boost the durability of your wood coatings to ensure an extra long-lasting surface protection rarely seen on the market. This new range of surface modifiers can adapts to all your requirements, from hardness levels, chemical resistance, gloss, VOC to surface requirements and more.
If you'd like to improve your coatings durability, here is a case study showing you how a wood coating manufacturer has successfully increased its surface protection by 70%.
READ THE CASE STUDY
Why is this email good?
The subject line is engaging and quantifies the benefit. It is slightly personalized with the "your" and the how-to has more chances to raise interest and curiosity.


The title complements the subject line and gives more context to what we are about to learn in this email.


The body is short, structured with a progression and focused on benefits. What is the problem? What is the solution and why should I consider it? How can I learn more?


The email copy is engaging, with a question to involve the reader from the beginning


The message is personalized. It is not generic but written for the recipient. As you exactly know your target's needs and challenges, your message instantly resonates with their situation.


The bold text helps to counterpart the scan of the readers.


The call-to-action is clear and logical. The promoted content make sense with the overall story.