Today, specialty chemicals and materials buyers can access data for more than 300,000 products from 5,800 suppliers on SpecialChem's material selection platforms product databases — the largest source of technical data in the industry today.
And, downloadable technical data sheets are available for technical buyers from suppliers that offer a premium listing. In 2020 alone, the SpecialChem websites attracted more than 9 million visits.
But are these visitors navigating on product database pages just for pure curiosity? Or are they assessing if a supplier's product is a good fit for their project? First, let's look at some facts about the digital habits of engineers — the technical buyers.
Datasheets: the most decisive document for technical buyers
For the past few years, GlobalSpec has surveyed thousands of engineers around the world about their digital habits. As shown in the chart below, these technical buyers greatly depend on technical datasheets as the number one document to determine if a product fits their project: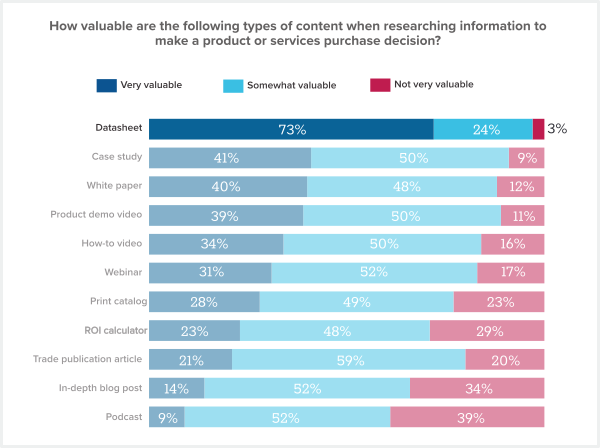 Source: GlobalSpec | 2021 State of Marketing to Engineers
The key takeaway?
Technical datasheet are the most decisive document for technical buyers.
So we can see that the millions of visitors navigating on SpecialChem's websites were most likely not there for pure curiosity! But we asked them — just to be sure.
Over the course of 2 months in 2021, we gathered the feedback of 35,000 website visitors to get the answer to this question: Is your current visit related to an active project?
And here are the results.
The survey results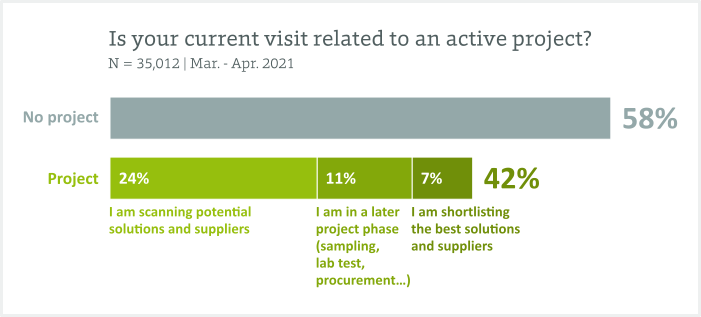 For 35,000 respondents, 42% of their visits on SpecialChem are related to an active project.
If I apply this percent to the 2020 traffic on our websites of 9 million visits, this represents 10,350 visits related to a project PER DAY. We didn't expect such a high number when we launched this survey.
When these chemical buyers are accessing product data, 2 out of 5 are not just curious, they are assessing products for a current project.
How can suppliers capitalize on this traffic to engage with more customers?
These results shows that product databases are huge magnets for technical buyers. They are the best channels to reach and engage the chemical buyers at the most decisive part of their decision process.
Now, you may ask yourself "how to capture this potential business?". Well, here are my three recommendations:
List your products in ALL the popular product databases in your space. Not just one database. Not only the cheapest option. ALL OF THEM. If you want to be considered by your future customers, you must be present where these buyers are searching. And unfortunately, you don't have the control over which database they choose to use. You must be present on ALL of them,or you will miss those business opportunities.

Attach the datasheet and additional documents to your product pages. This is a key feature that you should activate whenever the option is available, and almost all databases offer that feature. Instead of landing on a dead-end page, your visitors are encouraged to pursue their self-education on the same page. They can download your datasheets, case studies, brochures, videos, formulation advice or any other documents worthy of interest.

Increase your conversion with premium features when applicable. At SpecialChem we offer a free Basic Listing which you can choose to upgrade to a Premium Listing. Most other databases offer paid listings only. The fees mostly depend on your number of products or your targeted geographies. But no matter the pricing model, what matters most is your ROI. And premium listing features will boost both your visibility and your number of requests. For example, we measured that suppliers with a

Premium Listing on SpecialChem attracted 6X more traffic to their product pages

vs. a Basic Listing. I will link the study once published on our Learning Center.
And you, do you use product databases in your digital strategy? Do you want to discover your lead potential if you list your products on SpecialChem? Contact us and let's discuss.