If I just had a penny every time my clients asked me "Are SpecialChem leads GDPR compliant? Can I contact them?", then I would be a billionaire.
This is understandably a sensitive topic, and I will give you the answer in this short article.
Yes

, we are GDPR compliant!

Let's not beat around the bush, all our leads are GDPR (European General Data Protection Regulation) compliant, and for two reasons.

First, this is a legal obligation when you are doing business with European audiences. To be compliant, your company and all your business partners must respect the European General Data Protection Regulation too.

Second, we want to be transparent with our users and protect them at the same time.
How are we GDPR compliant with our users and clients?
In a nutshell, we have implemented several actions to make sure that our users are fully aware about the use of their personal data. The most important for our client is that our users must give their consent before sharing their personal data with you — our clients.
First, this condition is clearly stated in our Privacy Policy, so you are legally safe:
"When you access sponsored content, fill a sponsored request or register to a sponsored event, we may share, with your prior consent, your contact details and the additional information that you provide when completing a form with our clients. These sponsored content, requests and events are either marked with a supplier logo or available on a page marked with a supplier logo."
But on top of legal stuff, transparency matters to us and our users.
So before interacting with your sponsored content — and becoming a lead for you — our users must give their consent. They are prompted with this message below and they must accept it if they want to continue their navigation path: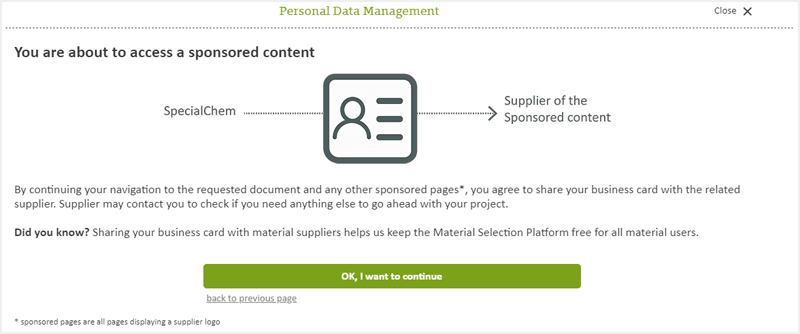 Consent message displayed before accessing client's content
How should I contact my leads so they are not surprised?
Most of our clients do not want to be perceived as spammers by their leads. So, this is the typical question that they have, and maybe you have the same question.
As explained in the previous part, your leads gave their consent before accessing your content, and they were fully aware that their contact details would be shared with you.
Now, to set you up for success, we recommend you these best practices:
Follow-up quickly with your leads: within 5 business days is ideal, so their actions are still fresh in their mind.


Explain how you received their contact details: Drop a quick introduction sentence to answer that question "where did you get my contact?


Offer help: Never be sales-oriented when contacting your leads for the first time. You must create trust before. Share tips or offer your help to solve a problem instead. This approach will be much more valuable for your lead.
Here is an email example following those tips:
"Hi John, you recently downloaded [DOCUMENT] on SpecialChem.
Are you trying to achieve [GOAL]? If that's the case, I have attached additional information about how you can [SOLVE PROBLEM X WITH SOLUTION Y].
Is this a challenge that you would like to discuss? I'd be happy to share some examples on how we have solved this for our other customers. Feel free to book 20min in my calendar.
Kindest regards,
Signature"
Which leads should I contact first?
That's a very good question and I'm glad that you are asking. Seriously, I mean it.
Most of our clients don't ask that question at the beginning, and they follow-up with all their SpecialChem leads the same way. But that is a mistake. All your leads are not the same. Some are curious, some have serious projects, and both need different follow-up approaches.
Leveraging artificial intelligence, we have developed a lead score to help you detect the quality and intent of each of your leads. And this scoring is the ideal criteria to determine which action best fits the lead.
To determine which lead to contact first, I invite you to read our post: How does SpecialChem Lead Scoring Work? And, you will find some interesting insights.
And if you want to maximize your lead conversion, go check out our Lead Qualification 101 for Chemical Suppliers: From Leads to Business.