At SpecialChem, we help suppliers of specialty chemicals and materials to leverage our material selection platforms to engage chemical buyers and generate marketing qualified leads.
But we don't simply provide our clients with raw leads that include only a few pieces of contact information.
Each of SpecialChem's marketing qualified leads (MQL) is scored to help our clients identify the hottest leads. These hot leads can then be quickly dispatched for follow-up and sales qualification.
If you are reading this, you obviously want to know how our lead scoring works and how to best use it to optimize your lead follow-up. Right? Well, you have come to the right place! So, let's dive in.
1 - The impact of lead scoring on your lead follow-up
Before I dissect our lead scoring and explain how to use it, let's have a first look at the results.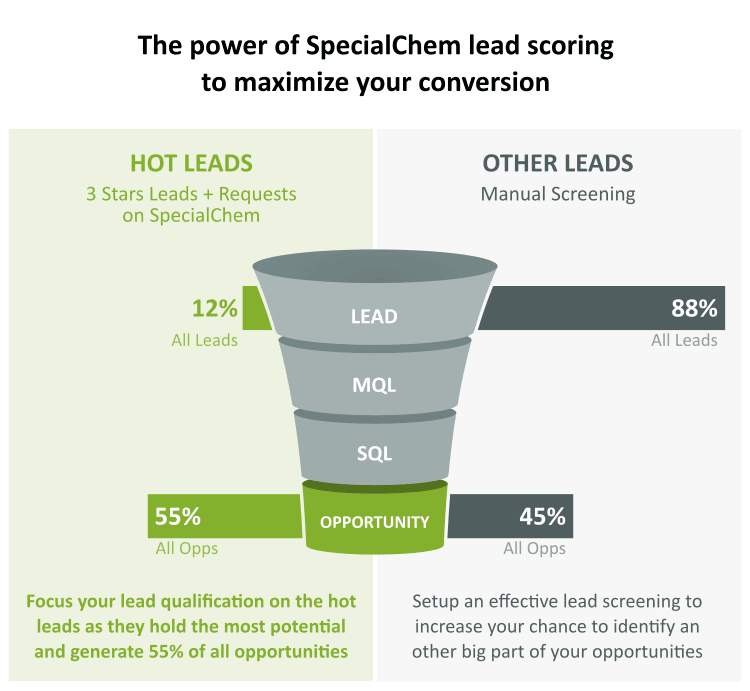 As you can see in this chart, 55% of Opportunities come from the Hot Leads, and these hot leads represent 12% of the total.
An opportunity is a lead in your target profile who has a verified project where your product could be a good fit.
In other words, our lead scoring helps you to optimize your conversion rate and focus your lead qualification and resources on the most promising leads.
learn more about SpecialChem lead conversion benchmarks and ROI.
2 - How does SpecialChem lead scoring work?
Each lead generated for our clients is scored on two dimensions:
An in-target score: does the lead match your ideal customer target?
A current interest score: does the lead show a strong interest in your technology category right now?

Example of your lead list on SpecialChem
Each dimension is represented with a number of stars. And as you may already guess, the higher the number, the better:
| | | |
| --- | --- | --- |
| | In-Target score | Current Interest score |
| ⭐⭐⭐ | Your ideal lead profile | Strong interest, 70-100% chance of a project |
| ⭐⭐ | A good lead profile | Moderate interest, 30-70% chance of a project |
| ⭐ | Not a priority | Low interest, 0-30% chance of a project |
| 0 | Absolutely not a match | No interest for now |
| - | We don't have enough information to know | We don't have enough information to know |
3 - How is the SpecialChem lead scoring calculated?
The stars are just the tip of the iceberg — they provide what you really need to organize your follow-up. But I am sure that you want to know how our scoring engine actually works. So let's look inside.
How the in-target score works
To determine if a lead is close to your ideal customer, we take 3 criteria into account:
Company activity: the position in the value chain: OEM or end-user, formulator or compounder, ingredient supplier… …
Geographical area: the location on sub-continent ie North America, Western Europe, Asia Pacific…
Technology of interest: the lead's affinity with your type of chemical or material technology based on this person's navigation on SpecialChem
Once you have defined what is in your target for each of these criteria, your leads will be automatically scored by our system.
| | |
| --- | --- |
| | In-target score |
| ⭐⭐⭐ | Match the 3 criteria |
| ⭐⭐ | Match 2 criteria, including the company activity |
| ⭐ | Match the company activity only |
| 0 | Does not match the company activity |
| - | We don't have enough information |
Note that the company activity is an excluding criterion. If it doesn't match, the lead will have a Profile Score = 0, no matter what the other criteria are.
How the current interest score works
To detect the leads' interest in your products, we have built an artificial intelligence (AI) that analyzes and scores the navigation of each visitor.
All the pages that they visit and all their interactions are taken into account: your product pages, your PDFs, your competitors' products and any article or video related to the same technology...
We then trained our AI to identify the navigation patterns of leads that have a project. This way, our AI can predict the chances that your leads have a project based on their navigation:
| | |
| --- | --- |
| | Current interest score |
| ⭐⭐⭐ | 70% - 100% chance of a project |
| ⭐⭐ | 30% - 70% chance of a project |
| ⭐ | 0% - 30% chance of a project |
| 0 | No more than one navigation related to your technology over the past week |
| - | Not enough navigation history to predict a score |
4 - How to best use SpecialChem lead scoring for my follow-up?
How to use the profile score
When screening your lead list from SpecialChem, we recommend to filter your leads with 2 stars and 3 stars in-target profiles. These leads meet your defined lead criteria. Don't waste your time with the 1 star (company type match only) and 0 profile scores (no match).
Once you have this in-target filtered group, then you can add in a filter on the current interest score.
How to use the current interest score
Quickly dispatch your in-target leads that score 2 stars and 3 stars current interest for qualification to further investigate the technical fit for your product and the project status. For this you will use your inside sales team or your regional sales teams. These leads hold the highest potential to become new customers. And, trust me, you will lose the potential to measure your ROI if you fail to move these highly scored leads into this sales qualification phase.
For those in-target leads with only 1 start current interest, you can nurture these leads with marketing actions. Based on our AI, they may not be ready to engage with you now, but they may be in the near future if you educate them regularly with high value content. When they have a project, they will think about your solution first.