Webinars are powerful digital tools to generate new marketing leads and even to help existing leads to progress down your lead funnel.
But despite their excellent ROI, webinars are one of the most time and resource intensive marketing campaigns to execute.
Several weeks and a lot of brain power are necessary to not only create and rehearse the presentation but to effectively promote both the live event and the post-event recording.
With such a big investment, webinar failure is not an option.
At SpecialChem, we create, promote and organize webinars for chemical suppliers. And we've been doing so since the year 2000.
Over these years, we have gathered best practices that will help you optimize your creative process and ensure a successful webinar that brings both value to your audience and leads to your pipeline.
1 - Focus on the challenges of your chemical buyers
The topic of your webinar can make or break the success of your event.
Chemical engineers and formulators are more likely to register to your webinar if they will learn how to solve their problems, overcome their challenges, and find ways to improve their current situation.
Are there any upcoming regulation that your product can tackle?
Are their typical production issues which you can prevent?
What are the critical performances which you can improve in the finished product?
All these questions require you to perfectly know your market needs and requirements, the profile of your customers and the value proposition of your chemical product.
2 - Build a compelling story that brings value
When crafting your webinar presentation, a frequent mistake is to copy-paste existing slides of several presentations, hoping the resulting story will be attractive and interesting.
But most of those Frankenstein-created presentations are usually not effective at all.
The story is not captivating and moreover, it is confusing to your audience. These presentations tend to lack coherence and the key-takeaways are unclear, not relevant or even secondary to what your potential customers really want to learn.
To build a strong and captivating story:
Start with the relevant market trends, challenges and needs that are important to your target audience.
Explain how these will or are already affecting their job or business.
Last, explain why and how your solution can help them address or anticipate this challenge.
Use storytelling

to convey your message.

Use facts and data

to demonstrate how your product is the right solution

Focus on what really matters to drive your audience to the right conclusion
3 - Don't be too technical or too sales oriented
The goal of your webinar is to convince the audience to consider your product as a solution to their problems.
To do so, focus on the most important technical information that highlights your differentiation and why you are the best/better solution versus the benchmark.
Do not drown your attendees with tons of technical data about your product. People have a limited bandwidth to absorb what you are sharing.
If people register for your webinar, they expect to learn something. They are not attending to be "sold" your product.
They will be disappointed and frustrated if you simply share a commercial sales presentation of your products or inundate them with performance data and tables.
You need to go a step further and explain how your product can make their job easier.
4 - Target 30-45 minutes duration
To be effective, your webinar should not be too short or too long.
If you present for under 30 minutes, attendees might be disappointed by the limited information shared.
On the contrary, if you present for more than 45 minutes you will risk drop-off of the audience.
And remember, attendees to live events expect a Q&A portion.
By keeping your presentation to no more than 45 minutes, you will then have 10 to 15 minutes to answer some live questions in the end.
5 - Make the audience listen to you rather than read your slides
When dealing with technical content webinars, presenters tend to overload their slides with long paragraphs of their speeches, huge data tables and complicated charts.
In addition to distracting the participants, sharing too much information on your slides usually makes your presentation boring. Attendees will be reading or processing the information to understand it instead of listening to the presenter
Your slides are only here for a single purpose: to help the attendees to understand and remember the key messages.
To maximize that impact, rely on a few, strong and memorable visuals that reinforce your key messages.
How?
Keep one message per slide.
Use keywords instead of long paragraphs.
Never write your speech on slides, except when sharing definitions.
Use photos, illustrations or icons as much as you can instead of words to convey meanings.
Limit your bullet points to 5 maximum.
Keep your charts and tables as light as possible by removing all the unnecessary data or plots.
You can even consider animations to make your presentation dynamic and keep your audience actively listening. On top of that, they give you the possibility to focus your audience on specific information, or make sure they are on the same page by breaking down visuals into pieces, with each part appearing at the right time.
When using animations, we recommend that you stick to basic animations like "Appear" and "Fade" which gives a modern look regardless of your skill level in PowerPoint.
6 - Engage your audience with poll forms
Poll forms are interactive questionnaires shared during the live event that your audience can respond to and see the results right away.
This tool is an excellent way to involve the attendees.
You can use polls in many ways to test their knowledge, show preconceived ideas or wrong market beliefs, assess their current situation, and even influence the course of the webinar like choosing which example to present among 3 choice cases.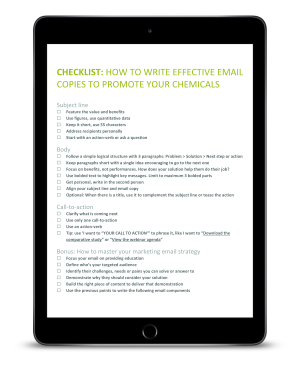 7 - Prepare a few questions for the Q&A
Attendees can usually send their questions to the organizers during the webinar to get an answer during the Q&A session at the end.
But in some cases, the audience is frozen and have no questions. You may need to warm them up with some ice-breaking questions.
Having a set of 3 prepared questions can help you trigger the attendees and give the impression that everyone is passionate about the topic.
These questions are also a way of approaching certain points from a different angle, to help reinforce the key takeaways for your audience or even to re-emphasize the next action you want your attendees to take.
8 - Find a fluent and dynamic presenter
The visual of your presentation is key to keep the audience's interest but your webinar speaker is even more critical to ensure the success of your event.
Choosing a speaker only because of the job position is not always a good decision.
You can have the best presentation in the world, but if your speaker has a boring, monotonous and impassive tone of voice, everyone will remember how painful your webinar was and no one will retain the key messages.
Choose someone in your company who has a dynamic and fluent flow in her or his presenting style.
Ask your speaker to smile during the webinar, attendees can hear it.
Ask some colleagues to listen in to the rehearsals and to share their thoughts on the speech rate and adjust if it is too slow or too fast.
For international webinars, be sure to consider the speaker's accent. Some strong accents can be difficult to understand for attendees that are not accustomed to listening to accents.
9 - Write down your speech
There is nothing worse than listening to a speaker trying to find the right words, constantly hesitating, rephrasing or repeating filler words like "hum", "well", "you know", "so" and so on.
Even though these words are natural in conversations, they tend to annoy the audience and gives the impression that the speaker is not well prepared or reliable.
To eliminate these negative speaking habits and ensure you are not hesitating, you can practice and train hard, or simply write down your speech.
That second option requires less efforts to obtain a convincing and professional result, plus it gives you the possibility to use punchy and striking turns.
Your speaker will only need a bit of acting to bring the text to life but the next best practice should help you acquire it.
10 - Practice with two dry-runs
Webinars are stressful and intimidating events for the speakers.
Unless you are a seasoned webinar presenter, speaking in front of a microphone with hundreds of people online listening to you while scrolling through your slides isn't easy.
Plan two dry runs to practice. One a week before and the second one day before.
Expect the first dry-run to be a hot mess. That's normal. As the speaker needs to get used to the slides and the speech, he or she will hesitate and redo it many times. Maybe you will review or refine some parts you think are too weak. This is also the opportunity to test your microphone and get used to the webinar conditions and equipment.
The second dry run is usually much better and the speaker is more confident. Doing this second rehearsal one day before the live event helps to have the speech fresh in your speaker's mind. We recommend to run this session under live conditions and record it. Your speaker's performance will be very close to the live event version.
11 - Choose an appropriate date and time
When planning your webinar, always pay attention to the calendar of the regions you are targeting.
Avoid trade shows, bank holidays or typical holiday periods when many people aren't available.
Also avoid weeks of daylight savings time change.
We have also found that Mondays are not good days for webinars as most people are starting and planning their business week.
The timing of your event also maters. As it is impossible to effectively target the 3 regions of the world with a single webinar, choose a convenient time slot for the 2 main regions you are targeting. We typically hold our webinars at 10 am New York which is 4 pm Paris.
12 - Use a good microphone with a stable connection
Having an internet cut is the worst nightmare of webinar speakers and organizers.
To minimize the possibility of this tragic event, which could sentence your webinar to death if it lasts for too long, rely on a wired connection with optical fibers if possible. The speed and stability are better than with WiFi and it will slightly improve the audio quality too. Prepare a plan B just in case a cut still occurs such as a back-up WiFi or a 4G shared connection.
For your microphone, you can opt for a headset if your laptop mic is not good enough. Avoid using a telephone as telephones often give a crackling background noise.
If you are planning several webinars over the year, consider investing in a professional microphone (We use Blue Yeti (120€) with an anti-shock arm stand.)
Make sure that the room you are in is quiet. Close the doors and windows. Ask people not to speak loud near the room and book the adjacent rooms to keep them quiet as sometimes walls are too thin.
BONUS - Promote, promote, promote
All these efforts will be in vain if you don't effectively promote your webinar.
Promote it on your corporate website and social media. Send targeted mailshots to your own contact base and ask your sales team to invite their hottest prospects.
But even if those channels are good starting points, they tend to be too limited, generating too few registrants for your event.
To massively broaden your reach, material selection platforms and databases like SpecialChem can help you.
Those websites are massively used by chemical engineers, formulators and specifiers actively looking for products, technical data and educational content to guide their product selection.
At SpecialChem, 70% of our 500,000 members are working in R&D and production functions.
Promoting your webinar in newsletters and targeted mailshots is a good way to cross paths with your future customers and attract them on your webinar right as they look for solutions.