The chemical industry is unique. You can't buy specialty chemicals like you would buy shoes online.
Before buying a new ingredient for their coatings, adhesives, plastics or cosmetics formulations, your customers need a prior test and validation in their lab and production line.
And this part of the buying process could hardly become a 100% digital.
But before testing a chemical product, they need to choose it, right?
And where do they find that information?
Online.
Material selection is now digital
The material selection is at the very heart of your buying process. Engineers, formulators and material specifiers are your real buyers. They self-educate and decide which chemical ingredient they want to test for their projects.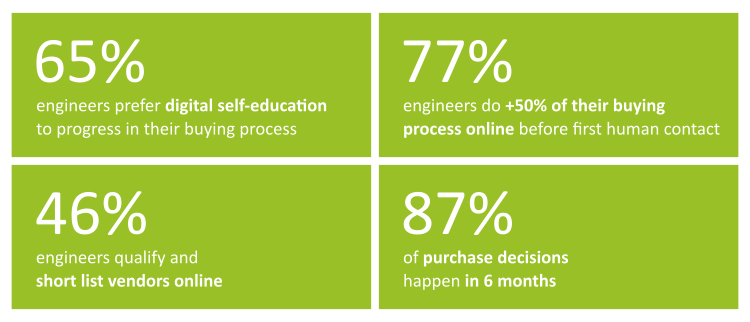 Engineers are now digital. Source: GlobalSpec, 2019 Smart Marketing for Engineers
It is not a surprise to see that 77% of engineers claim more than 50% of their buying journey is online, before their first human contact with suppliers(1). Talking about supplier contact, 46% of engineers short-list their vendors online too.
If you want to reach your future customers when they are searching for a material solution — that's what we call inbound marketing — you must cross their online path at the very moment they are searching.
And to be seen and considered by chemical buyers, you need to be present on the right channels they use for their material selection and supplier short-listing.
So, what are the best digital channels that you should seriously consider to engage your future chemical buyers before they've made their decision? Here's our absolute top 5.
Best channel #1: Your corporate website
Your website is the digital identity of your company. Without it, you don't even exist in the eyes of your future customers. It is not optional if you want to be seen as a serious supplier. It is a must to gain trust and credibility.
When visiting your website, your future customers have already made some decisions and selected their material of interest.
They only come to determine if your company is worthy of their business:
Who are you?
What are your strengths and uniqueness?
Have you already tackled similar cases?
Are you easy to work with?
What is your delivery flexibility and policy?
Are you reliable?
In marketing words, they assess your company's value proposition, not just your chemical product performances.
Provide the right documents and information to address these questions.
Do you want to introduce your company and its strengths? Embed a short introduction video in your homepage.
Do you want to prove how you helped to solve specific issues over the past years? Share case studies, quotes and testimonials from happy customers.
Do you want to show how easy it is to work with you? Start by being easy to contact with online chats or simple and short forms for example.
And last, but not least, pay attention to the design, user experience and the ease to access the right information. An outdated look, a bugged menu or an unclear layout can instantly kill your prospects' desire to pursue their navigation, and can drop your name to the bottom of their suppliers list forever.
Best channel #2: Corporate blogs and SEO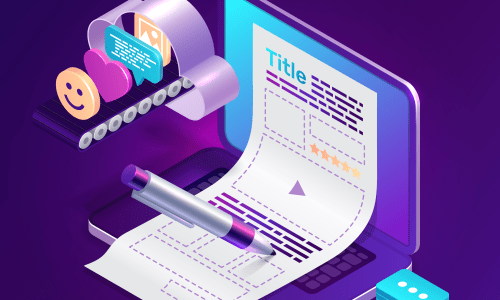 A blog has 2 major objectives, lead generation and lead nurturing. Let's dissect each of them.
First, your blog is built to attract your future customers in the earliest stages of their buying decision, mostly from search engines.
You create and share valuable content to help them select the right chemicals and materials: eBooks, guides, tops, articles, white papers…
Whenever an engineer starts searching for how to meet a specific cosmetic regulation, improve a coating performance or find a flame-retardant alternative, the chances to find your content on top of search results are high — optimizing your search engine ranking is what we call SEO, Search Engine Optimization.
To make your lead generation operational, you finally need to convert those unknown visitors into known professionals. To do so, gate your most valuable content like webinars, guides and eBooks with forms to collect data and identify the prospects in your business target — or in your buyers' persona in marketing terms.
The second objective of a blog is to educate and nurture your marketing leads.
If your navigation is well structured and focused on helping to move your prospects along the buying process, you will guide your inbound leads to self-educate and shape their decision toward your products and company. And believe us, inbound leads are a real gold mine that you'd better start to dig into now.
Even if they've shown an interest in your solution, some of your marketing leads won't be ready to move forward now. Your blog is ideal to nurture them, stay top-of-mind and continue to convince them to choose your product.
Best channel #3: Material selection platforms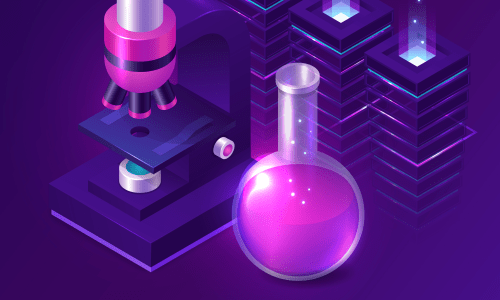 As the name implies, material selection platforms like SpecialChem or Prospector® are one of the most useful channels to help chemical engineers to find the right chemicals.
Those material databases are not only huge aggregators of technical data about hundreds of thousands of products — 345,000+ listed products on SpecialChem when writing this article. They also ease the search, comparison and selection of chemical ingredients with dozens of filters, and provide tons of educational content including datasheets, formulation guides, webinars, technical articles, case studies, online courses and more.
When you know that 70% of engineers praise datasheets to mature their buying decision(1), it's therefore common to see massive organic traffic attracted to such channels, as they play a pivotal role in the decision process.
Since the beginning of 2020, we have counted more than 800,000 visits per month on the 5 SpecialChem platforms with more than 70% of inbound traffic — visits initiated by engineers from search engines.
Given their interest, uniqueness and size, material selection platforms have become an inevitable channel to help chemical buyers shape their decisions.
Being present on those channels is the least you can do to be seen in search results. But activating marketing features is the best way to get the most out of it. Plus, you can plug in scalable marketing campaigns to create an optimal buying journey.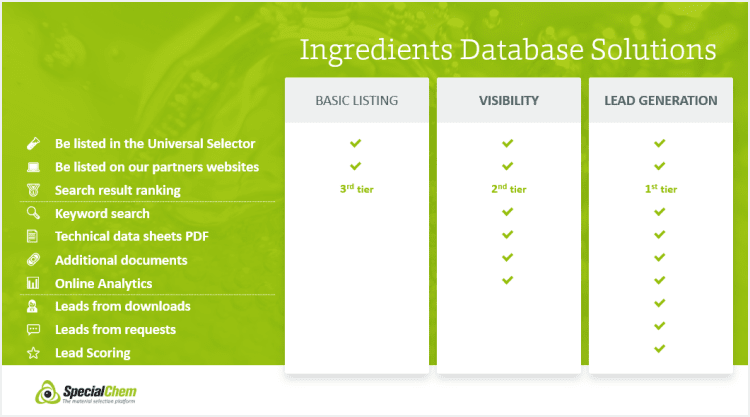 Example of the marketing features that chemical suppliers can leverage on SpecialChem
This is an example of SpecialChem digital marketing solutions that chemical suppliers can use to attract engineers and formulators to their products, add content to encourage self-education, and convert unknown visitors into marketing leads.
Best channel #4: LinkedIn / Social Media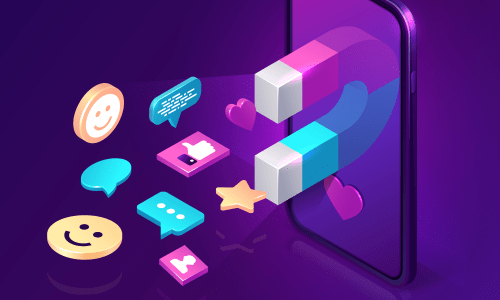 Social media — mostly restricted to LinkedIn in for B2B and especially for the chemical industry — acts as an extended arm of your corporate blog and website.
The difference?
LinkedIn is ideal to create a strong and more personal relationship with your target audience and favor your company as a preferred supplier — aka creating a brand engagement.
But it's not only about brand engagement. Social media can influence your buyers at every moment in their decision process.
Sadly, too many chemical suppliers neglect the 'social' in social media despite the potential:
Optimize your company page to gain trust and credibility when a prospect is trying to know you
Share valuable content and information — usually from your blog or external marketing actions — to nurture your followers and reach new prospects beyond your existing network via social reshares.
Reshare interesting content from external sources to increase your leadership and gain authority in a specific field. It may seem odd at first, but sharing educational or valuable content from external sources is part of an effective social strategy. It helps your followers to find relevant information to mature their material selection, plus, your company gains in confidence, authority and expertise.
Encourage your happiest customers to share feedback and tag your company to gain credibility in the eyes of your future buyers and convince them even before they have a project.
Promote your company news, events and launches to show that you are an active and fierce player.
Use relevant hashtags to capitalize on followed topics and trends
Tag partners in your posts and reshare those you are tagged in to broaden your network, show your ease to work with or strengthen your leadership position.
Share fun and happy moments with your employees to make your company more human and gain empathy capital.
Social media aren't built to influence your future customers in one shot, but more as a drip. Every day, you are distilling information to create a strong, influential and positive brand image.
When the time comes to short list suppliers, the credibility you earned will make a difference.
Best channel #5: SEA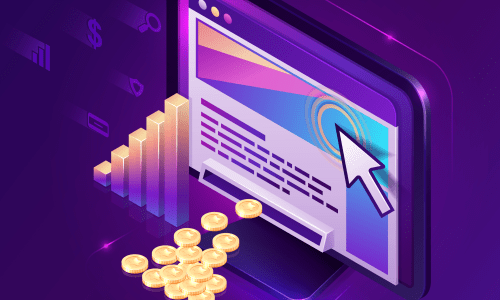 We're not going to hide it, creating content for your blog takes time, resources and…
Money…
Surprise!
But to make the investment worth it, your content needs to drive traffic to generate new leads.
And the biggest problem of SEO is that it is not an exact science.
You may follow all the best practices. Some articles you optimized for hours might generate almost no traffic. Some others could blow up even though you wouldn't have bet a penny on it. And finding what's wrong is not an easy task.
With SEA — Search Engine Advertising — you pay, you win.
SEA is ideal to instantaneously drive traffic from Google, Bing and others search engines to your content from targeted keywords.
As it starts from a search, those clickers have more chances to be actively documenting their material selection. Capitalize on that qualified traffic to advertise your content on top of competitive or relevant keywords.
Are you planning a webinar soon? Promote your event to professionals looking for your technology right now. The same goes for every piece of content for which you would like more visibility. .
But remember, always advertise lead generation content with optimized landing pages. This is the key to convert unknown clickers into marketing leads and monitor your SEA performance.
It's time to get started
Choosing the right digital channels to attract and convince your future chemical buyers can be overwhelming at first.
Hopefully or sadly — it all depends on your point of view — this industry has a fairly limited choice of digital channels today, especially compared to the B2C world.
If you reached the bottom of this article — congrats! — I've keep this secret weapon for you: To determine if a channel is worth the investment, always remember to ask yourself those 2 questions: Who is using it? And why? Simple.