In 2017, the material selection space boomed. Four new players launched their platforms, joining the three historical leaders — UL Prospector®, SpecialChem and Matweb.

All these companies listed in this graph offer materials, chemicals and ingredient databases designed for technical formulators, and each platform covers a different spectrum of industries and applications.
From a supplier perspective, each of those websites are potential channels to reach, influence and engage with your future customers in target markets.
Each of these platforms lets you subscribe to free or paid listing services to attract traffic and searches onto your products, then convert unknown visitors into profiled leads.
So, which databases are actually best to engage technical buyers? And by technical buyers, I mean leads who are looking at products for a specific project right now.
The best platforms by organic traffic
Before I share the ranking, why am I comparing organic traffic?
Well, as I explain in this post, organic traffic is key to engage new customers.
Visitors from organic sources — like Google and other search engines — are proactively searching for a solution. And most of them are doing it because they have a project now, just like how you compare products online before buying.
And if you need a proof, 42% of SpecialChem visitors declared to be active on our websites for a specific project.
As a result, leads from organic traffic are more likely to convert into customers quickly.
This is why organic traffic is a good indicator of how qualitative a platform will be to generate leads for your business.
Let's compare the traffic of these websites: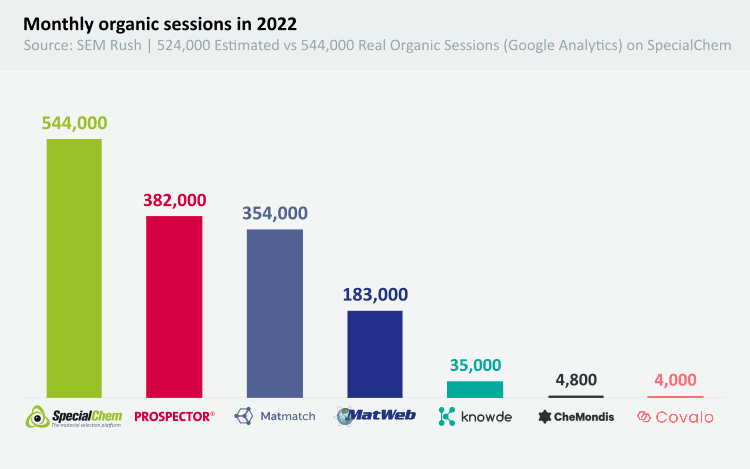 SpecialChem attracts the largest organic traffic with 544,000 sessions per month.
UL Prospector® and Matmatch occupy the second and third positions and attract a significant organic traffic share.
Matweb struggles to compete with the leaders but still capture a fair amount of traffic.
The newcomers Knowde, Chemondis and Covalo do not really attract organic traffic and must rely on other sources to drive traffic onto their platforms.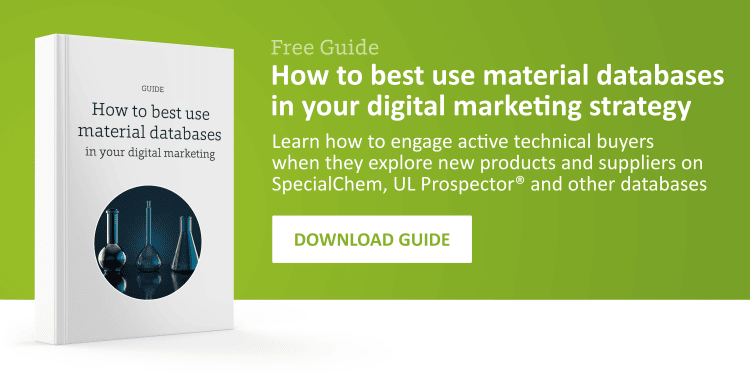 Comparison of the exhaustiveness and industries
We can also extract crucial information about the quality of a platform by looking at its database extensiveness and the covered industries.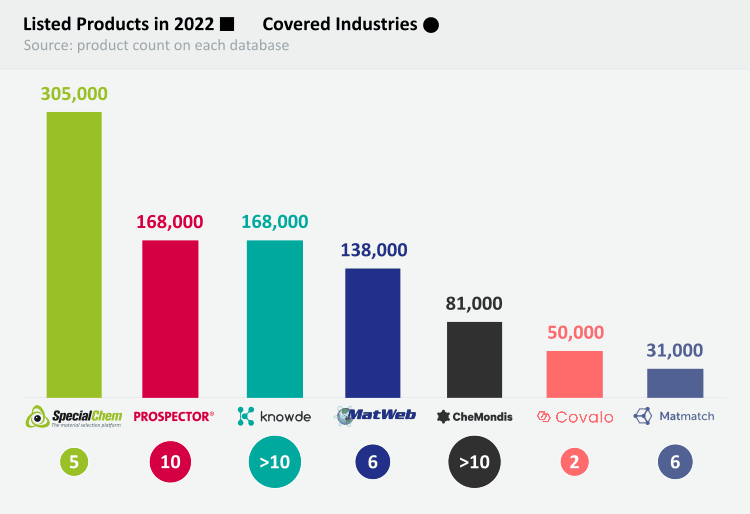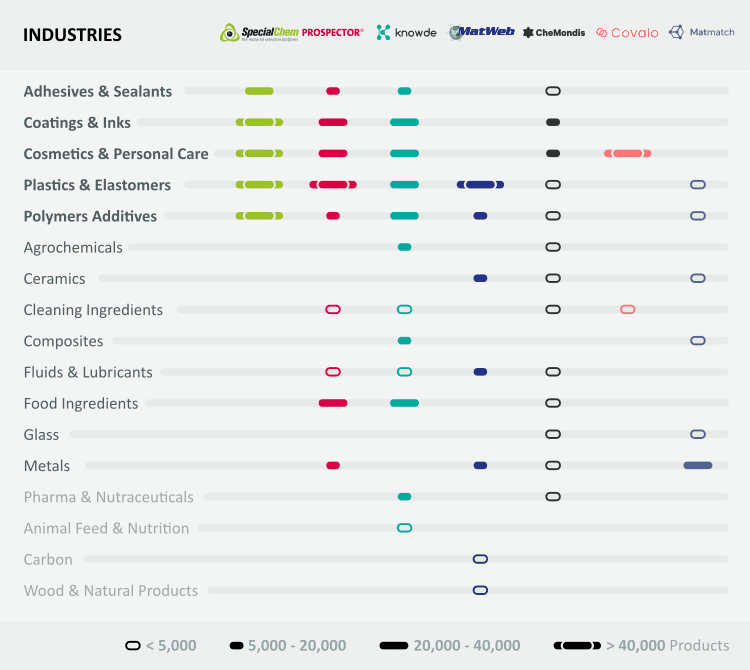 Our recommendation for suppliers of specialty chemicals and materials
Before I make my recommendation, let me address the elephant in the room.
Yes, I do working at SpecialChem and you may question my honesty. And as a true scientist, I hope you will.
But the goal of my recommendation is not to blindly praise SpecialChem. This post is here to advise you on the best platforms to consider in the specialty chemicals and materials segments, based on the traffic and database data shared in the previous sections.
1. SpecialChem is the best channel to engage active technical buyers in specialty chemicals and materials
If you target the adhesive and sealant, coating and ink, cosmetic and plastic segments, SpecialChem must be on top of your list as this platform outnumbers the competition, by far.
SpecialChem attracts the highest organic traffic share, with 36% of the total organic traffic (Source: SEM Rush June 2022) while it covers a smaller range of industries (5) vs others.
On top of that, the organic traffic represents 70% of SpecialChem's traffic sources.
From a supplier perspective, SpecialChem is the best platform to find the highest number of active technical buyers in project mode.
This is no surprise to see that 42% of SpecialChem's visits are related to active project, according to our visitors.
2. Cast your net wide: Be on both SpecialChem and UL Prospector®
UL Prospector®, another historical player, also attracts a fair amount of organic visits and covers the specialty chemicals and materials industries.
SpecialChem and UL Prospector® are dominating the material and selection spaces. Their organic traffic represents 60% of the total organic traffic in the material selection space.
So, cast your net wide!
If you can afford both SpecialChem & UL Prospector®, use both platforms!
This is the best online strategy to massively influence and engage active technical buyers when they have a need or project.
If you can't invest in both, here are the reasons why SpecialChem or UL Prospector® might be a better fit for you.
By focusing your digital strategy on these two channels, you maximize your chances to be considered by your target markets.
3. Matmatch & Matweb offer limited value in the plastic and additives segments
Matmatch and Matweb both covers the plastic industries, but despite their good organic traffic, they are not a good fit for suppliers of polymers and additives.
Matmatch has recently added polymers and additives to their offer, but 76% of their database are metals. This means that most of their organic traffic will be landing on metal products, which you can't benefit from.

Consider Matmatch to list your products if you have a deliberate multi-channel strategy, but do not expect to reach and influence many active technical buyers in project mode via this channel for the moment.


Matweb has a huge database of plastics and elastomers, and they have a great organic traffic too.

But their ageing interface combined with limited digital marketing possibilities make this platform a good channel to influence active technical buyers, but not a great platform to engage them.
4. Knowde, Covalo, Chemondis: Don't expect much from newcomers
Knowde, Covalo and Chemondis have low organic traffic. To attract active technical formulators from search engines, they can only rely on SEA (Search Engine Advertising) to compensate for their low organic traffic today.
To generate active leads, these low organic traffic platforms must also rely on outbound marketing campaigns such as targeted emails and e-newsletters.
But these unsolicited actions are far less effective when it comes to be able to reach and capture active technical buyers, as you can see in our Inbound vs Outbound Leads comparison case study.
Chemondis is primarily a marketplace, and marketplaces are not the best channels to influence your technical buyers. Why?

Chemondis offers limited possibilities to select and compare materials. This is not their intent. Technical buyers aren't using Chemondis to screen and explore products, they can't.

However, they will use this channel once they have made their decision, but by then it is too late to capture this business.


Covalo is only present in the cosmetic industry and today, they have anemic traffic despite a huge number of listed ingredients. They will hardly generate active leads for your business, or only at the cost of expensive SEA ads, or low-impact outbound campaigns.


Knowde has gathered an impressive database in a couple of years, but their organic traffic is still extremely low. They regularly invest in SEA campaigns to compensate.

Knowde is strong to create a sense of urgency at suppliers by claiming 6,000 storefronts. But a with such low organic traffic, it is virtually impossible to feed your sales and marketing pipe with a fair amount of active leads and requests.
I personally do not recommend these three newcomer platforms yet, unless they can prove a positive ROI based on their organic traffic, and not based on paid ads. Let me explain why.
Platforms that attract users by using search engine paid ads (SEA) to subsidize sub-par organic traffic (SEO) are at a major disadvantage:
A lead from SEA is way more expensive than a lead from SEO:

SEA leads are 4 times more expensive vs. SEO leads

according to

SurveyAnyplace

.


These paid ads are more likely to be displayed on results where SpecialChem and Prospector® already have SEO results — remember,

they both represent 70% of the total organic traffic

.



So why would you pay 4 times more for the exact same lead?
That's one key reason why those new platforms aren't ideal for your digital marketing strategy yet. Instead, focus on platforms with a high organic traffic, mostly driven by SEO and not SEA.
Once again, my recommendation is only applicable to the plastic, adhesive, coating and cosmetic industries. For other spaces, that's another story.